What to do several weeks before your garage sale
A successful garage sale requires a minimum of 3 weeks to get ready. Longer would be better and less stressful.
Check each item
Several weeks before your garage sale find a comfortable spot, put on your favorite music and spend some time checking each item you have gathered for your garage sale. As you go through your items, refer to the following best tips to save you time later and help make your garage sale a success.
Clean and repair items
If you were buying something from a garage sale, you would more likely buy it and pay a bit more if it was clean, tidy and in working condition compared to something that was dirty, messy or not working or needed repairing.
Decide on the prices
You should decide on the prices for each item now. Refer to the best garage sale pricing tips for a guide.
Record your items
If you are going to record your sales or have a group sale and want to record you individual sales, start recording the details of each item and sequentially number each tag to match the number to your list. Refer to the Inventory/Sales Record template as an example on what should be recorded. Some benefits of recording your items are that each time you make a sale:
You can check the inventory number of the tag to ensure the correct tag is on the item and hasn't been swapped with a cheaper price tag.
You can mark the item as sold so you can quickly see at the end of the day what unsold items you should have left.
You can write the final price against the item to quickly add up how much money you should have.
In the case of a group sale, you can quickly add the sale prices of each group's sold items when dividing up the money.
Find any original boxes, instruction manuals or warranties for electrical items
If possible, include the original box or packaging and find any instruction manuals or warranties because it will make selling the item easier and you can ask for a higher price.
Group items so they are easier to handle and won't get separated on the day
If you selling a number of similar items, like cutlery, rubber band or tie them together.
Put small toys or game pieces that you're selling as a lot into a plastic zip lock bag. A good idea is to also staple it closed so pieces can't be easily removed.
Pin two-piece outfits or matching clothing together with a safety pin.
Store all your items in labelled boxes until the garage sale
Sort and pack your goods into labelled boxes like Tools, Kitchen, Kids, Clothes, etc. Keep these boxes for after the sale to pack the left-overs. (Hopefully there won't be any left-overs.)
Learn from the competition
Go to other garage sales to see what you like and dislike about their layout, their arrangement of goods, their signs, etc. Note what works and doesn't work. Go early in the morning and again just before closing to see what sold and what didn't sell. Ask them for advice or what they would do next time.
Start planning the layout
Imagine how you might lay out all your items for sale to work out what 'table area' you will need. Then see if you have enough tables, trestles, boxes and planks of wood/plywood between saw horses. If necessary, arrange to borrow some from family or friends.
Decide on your decorations
Decide on how you want to decorate your garage sale. For example:
If you have a lot of snow gear to sell then it has to be Christmas-in-July! Decorate with Christmas decorations & lights, inflatable snowmen, fake white snow on the ground, cardboard icicle cutouts on the gutters, etc.
If a lot of your merchandise would be ideal as birthday gifts then your garage sale can be a big birthday party.
Include this theme in your flyers, ads and signs to stand out from everyone else.
Organize some sheets to hang on the garage walls
These can cover shelves or garage items you don't want included in the garage sale. These also provide a clean backdrop for your table displays and also enable you to pin up clothes, signs, etc.
Depending on the weather at the time, be prepared for a stinking hot day or rain
Have on hand some inexpensive plastic table covers, cheap clear plastic drop cloths, tarpaulins, umbrellas, tents, shelters or canopies for protection from the sun or rain. You don't want the day ruined/cancelled by a sudden light shower of rain.
Check where you will be having the garage sale for hazards
Remove or fix any hazards that could result in accidents or injuries. Look carefully for low branches, cracks in paths or the driveway, loose rocks, etc. Check if your garage floor gets slippery when wet. A safe area can prevent costly accidents later.
Plan what you will do with your unsold items
You will have leftovers and you won't want to drag them back inside after your garage sale ends. Donations are welcomed at charity thrift stores, some shelters and even some nursing homes. Contact your local ones to check what they will and won't accept and how and when they accept drop-off's. Refer to for donating tips.
Prepare some of your own plants to sell in your garage sale
Divide some plants from your yard and put them in cheap plastic pots to sell.
Dig up any unwanted plants and put in cheap pots.
Plant some seedlings or take a dozen cuttings from your plants and root them. Just before the sale, put them in small paper cups with some potting soil.
Plan how you can keep customers at your garage sale
Don't forget that you are now a 'shop-owner'. Not only do you need to attract customers to your 'shop' but you need to think how you can keep your customers at your garage sale rather than flying in, having a quick look then flying out without buying anything.
If people are eating, drinking, talking, browsing, haggling, sitting, they're staying; and if they're staying, they're more likely to find things to buy.
Consider selling food or refreshments. Refer to Best 'lemonade stand' tips for more information.
Have a TV on showing the sporting event that would interest the men while the women shop.
Consider placing a garden or bench seat near the front of your garage sale for people to sit and rest. And place a table nearby with interesting knick-knacks.
If it's going to be hot, put some electric fans in the garage for buyers to stand in front of to cool down. If it's going to be cold, have a fan heater in a corner.
Consider having activities to keep shoppers' children occupied. For example:

Have a children's video playing on a TV.
Put sturdy toys on a rug.
Set up a Girl's and Boy's lucky dips.
Have an interesting or cute pet on display.
Have coloring-in books and colored pencils on a rug. For kids coloring, games & puzzles, paper crafts, party printables, etc go to http://familyfun.go.com/printables/. Let the children keep the book and pencils. They might have cost you $1 but hopefully their mum spent more.
How about a t-shirt?
Special t-shirts help to motivate your "staff" and also helps buyers feel comfortable knowing who to approach when ready to buy. The t-shirts below come other colors and a range of styles.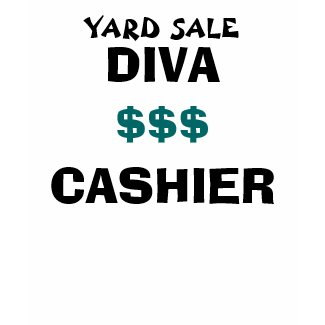 YARD SALE DIVA CASHIER
by Horseshoes3



Garage Sale Chick
by chicktshirts8

And what about a money apron?

"Garage Sale Staff" apron in range of colors and styles.
More at the Best Garage Sale Tips Store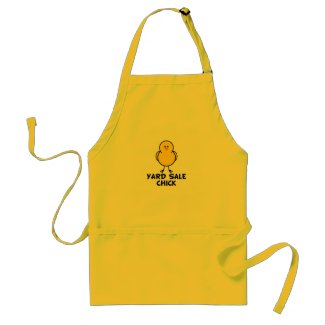 Yard Sale Chick by dustin1175


garage sale addict by insanitywear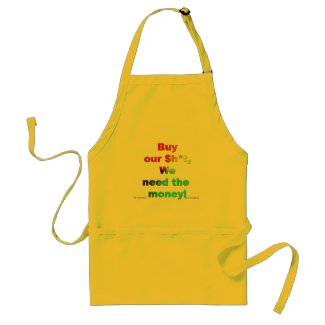 Buy our $h*t by tvtedesigns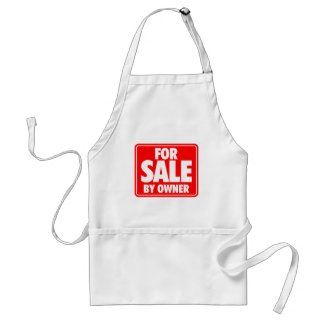 For Sale By Owner by ToucanIsland
It's not too late to have your
best garage sale ever!
Download your own 140+ pages printable copy of the
Best Garage Sale Tips ebook
with these bonus tips now only $4.95!